Type:
Activity
Level:
College, Secondary
Subject:
All
Category:
Additional Libraries
Keywords:
activity, agency, alternatives, mindset, uncertainty
An Educator's Guide: Realistic and creative tools for thinking about the future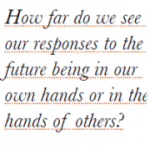 Students' beliefs about the future often dictate their actions, mindsets, and sense of agency in the world. This activity allows educators and students to explore how they see the future, why they see it that way, and what it might be like to adopt a different point of view. Based on a report called "Building Agency in the Face of Uncertainty," this resource is an easy-to-implement but powerful tool to start the conversation with students about their futures.