Type:
Unit
Level:
Elementary, Secondary
Subject:
Foresight
Category:
Teach the Future Materials
Keywords:
come insegnare a pensare al futuro, come insegnare il foresight, foresight, futuri, futuro dei ragazzi, libro di testo
Futures Thinking Playbook (Supplementary Materials, Italian)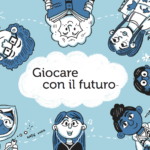 "Giocare con il futuro" è progettato per studenti e insegnanti ed ha l'obiettivo di aiutare le giovani generazioni ad anticipare e influenzare il futuro. Il manuale, interattivo, divertente e coinvolgente, porterà verso la scoperta di tanti e sorprendenti futuri possibili.
"Giocare con il futuro", suddiviso in sedici unità di lavoro, è pensato per supportare lo sviluppo di capacità quali creatività e pensiero critico.
Il manuale è consultabile online sul sito e disponibile su Amazon per l'acquisto. Gli istituti scolastici o altri enti che hanno l'esigenza di acquistare più copie hanno a disposizione uno sconto che possono attivare contattando direttamente Peter Bishop o inviando un messaggio sul sito di Teach The Future.
I materiali integrativi (Suggerimenti per i facilitatori, Carte Immagina e Carte Trend) possono essere scaricati qui gratuitamente come file zip o come file singoli.
Raccontaci come hai utilizzato "Giocare con il futuro" e com'è andata!
Educhiamo insieme al Futuro!