Type:
Book
Level:
Secondary
Subject:
Foresight
Category:
Teach the Future Materials
Keywords:
research, scenario, trend, workbook
Futures Thinking Playbook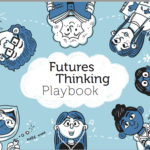 The Futures Thinking Playbook is designed for students and teachers alike, to help the younger generations anticipate and influence the future. This interactive, fun and engaging workbook will open minds to many possible and surprising futures. The Futures Thinking Playbook, divided into sixteen manageable plays, supports young people's creative and critical thinking skills.
You may view the Playbook the English version online or purchase that and versions in other languages from Amazon.
Supplementary materials for the Playbook are also available for download without charge from this Library.