Type:
Book
Level:
Elementary
Subject:
Foresight
Category:
Additional Libraries
Keywords:
action, entrepreneur, goals, planning
Kidpreneur Playbook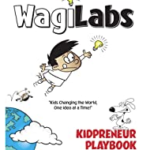 Chris Thompson is a cartoonist, consultant and public speaker on creativity.  He was asked to talk to a fifth grade class some years ago, and he was blown away with their natural creativity.  that lead him to publish two workbooks for young children -- the WAGILabs Playbook on creativity in general and the Kidpreneur Playbook on building an enterprise and creating change.  The latter is focused to some extent on building a business, but building a business and building an initiative to create change is just about the same thing.